A bush walk is a unique physical, mental and spiritual adventure through nature.
Accompanied by an experienced guide, a walking safari is an intense alternative. You're instantly more connected to your surroundings and your senses heightened.
Leave behind the distracting sounds and smells of vehicle or boat engines; enjoy the freedom of exploring at will, away from the restrictions of tracks that scar the landscape.
Aside from the walking activities offered at the lodges or our private mobile camps, the traditional walking safaris over a couple of days are becoming very popular, with a number of areas offering outings of three days or more.
WILDLIFE LIKELY TO BE SEEN ON A WALKING SAFARI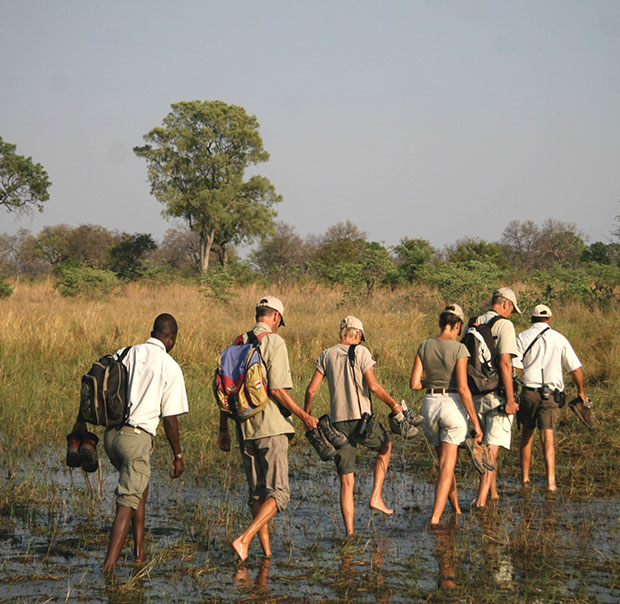 Botswana adventure walking safari
The Okavango Delta is where the Kavango River empties into a great depression of the Kalahari and floods its sands with life giving waters. The Delta is world renowned for it's uniqueness, islands, floodplains and waterways, this is what makes this area such a haven for the wildlife and birdlife that call this place home.
This adventure is not for the faint hearted, there are unpredictable eventualities that await, such as water levels, animal behaviour and climate. The larger game that inhabit the area include, lion, leopard, hyaena's, wild dogs, elephants, hippo, giraffe, zebra, wildebeest, kudu, red lechwe, impala, baboons and crocodiles. We will spend our first and last night at Mokolwane Camp, which is in the northern most point of this concession.
It serves as a perfect base for this adventure, we will spend time following natural islands, tree-lines and waterways with possible frequent water crossings. There is no better way to experience the Delta's secrets than by foot.
If you are looking for true adventure in a pristine wilderness area that has most of our large game and predators, then this just might be for you.
There is a saying: If the African sun shines on you once, it will shine on you again. We invite you to join us and have the African sun shine on you, to make your holiday unforgettable.